23.08.2022 - RBI discusses how to rebuild Ukraine
:

European Forum Alpbach 2023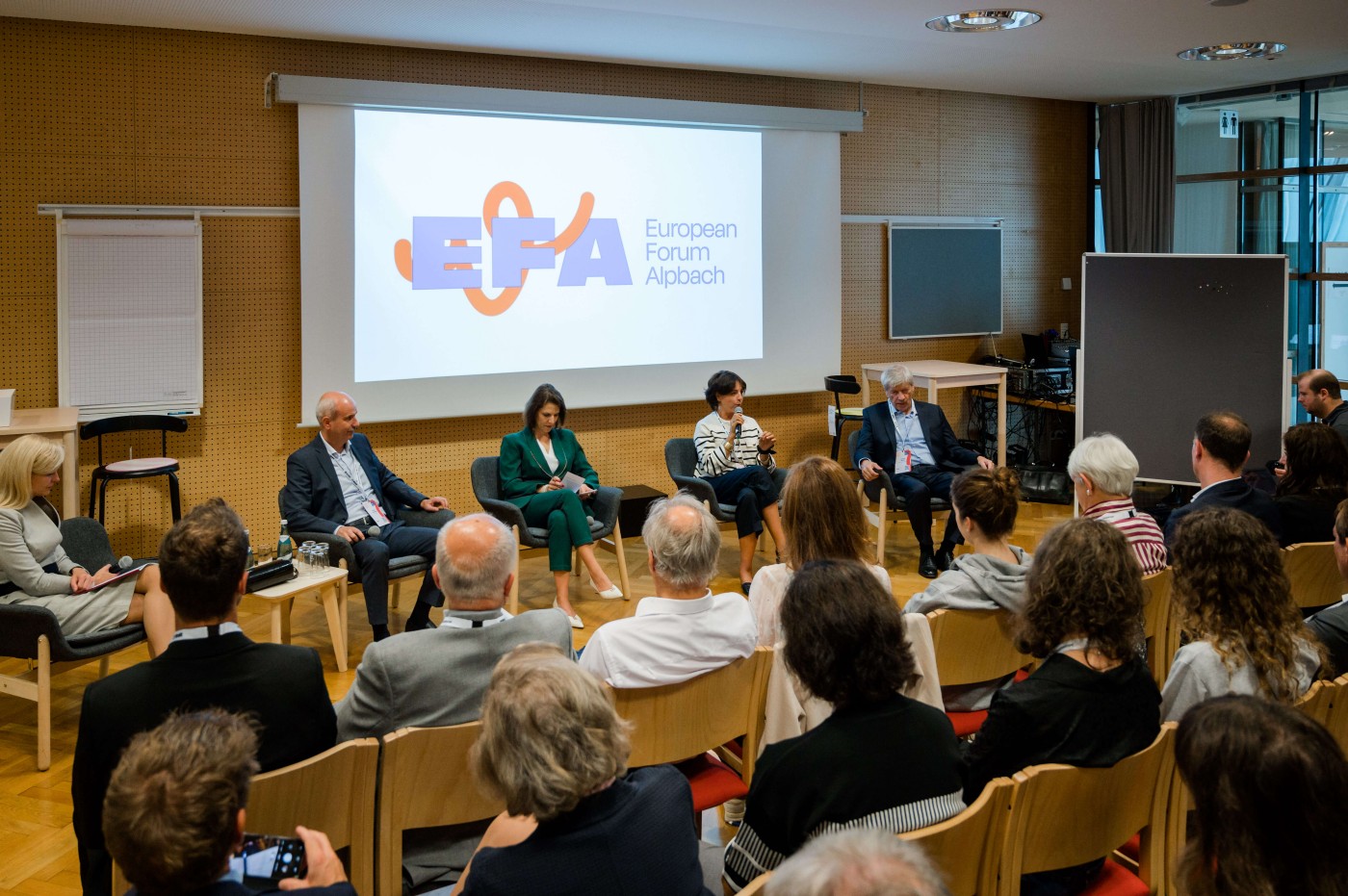 Raiffeisen Bank International participated in the European Forum Alpbach 2023, fostering the exchange of young individuals from Europe and across the globe alongside the brightest and most inventive minds from politics, business, civil society, culture, and science.
This collective endeavor aims to generate groundbreaking ideas, strengthening the concept of a robust and democratic Europe which is closely tied to "Rebuilding Ukraine". Therefore, it was our pleasure to engage in insightful discussions on possible solutions for rebuilding Ukraine, an issue that holds a prominent place among our core topics of interest.
Ukraine faces the task of reconstruction and revitalization after enduring the consequences of conflict and geopolitical challenges. To achieve long-term economic stability and prosperity, it must strategically align its efforts with EU accession. 
Strategic reconstruction priorities include restoring human capital, businesses, and welcoming back refugees and internally displaced persons in war-affected regions. Implementing structural transformation is crucial, shifting the economy from heavy and resource-based sectors to processing and high-technology industries. Emphasizing economic reforms, such as privatization, fiscal discipline, and alignment with EU economic policies, will contribute to sustainable growth.
Ensuring FX market stability is vital and requires switching financial flows from assistance programs to investment projects involving both private and public capital. Strengthening domestic institutions, legal systems, and the rule of law will create a solid foundation for progress. Additionally, learning from neighboring countries' experiences with EU integration and fostering cross-border cooperation can yield valuable insights.
Drawing lessons from past transformations in Central and South-Eastern Europe (CESEE) during their EU accession process is essential.
Key lessons include centralized and coordinated support from all donors, balanced cooperation between external and domestic institutions, and active involvement of local governments in the reconstruction process.
The role of Ukraine's banking sector in its reconstruction cannot be overstated. The involvement of foreign equity investors and EU institutions is vital to bolstering the banking and finance sector's efficiency. Furthermore, EU accession can serve as a crucial anchor to secure financing, encourage foreign investment, and integrate the country into international financial markets.
Addressing demographic challenges is vital, with a declining working-age population and emigration trends. Focusing on immigration policy, ease of doing business, and education reforms will raise productivity and stimulate investment.
Driving economic freedom and innovation is crucial to spur growth. Moreover, adopting EU competition and anti-corruption legislation can boost economic freedom, while drawing insights from the Western Balkans countries' experiences can be instrumental.
In conclusion, it can be highlighted that by strategically aligning its efforts with EU integration and drawing on the experiences of neighboring countries, Ukraine can pave the way to sustained economic prosperity and development.